The Hongo Campus is surrounded by many of Japan's top colleges and universities, academic publishers, museums, libraries, and Edo Period temples. Jimbo-cho, an internationally known used-book district, and Akihabara, the center for IT goods, are 15 minutes from the campus. It is situated next door to the La Qua Amusement Park and Tokyo Dome, an all-weather baseball stadium. One can also get to all of the major downtown business areas, such as Marunouchi, Shinjuku and Shibuya, within 15 minutes. Junior and senior students take advantage of the central location of the campus as they conduct real-world research, write papers, attend seminars, and begin job-hunting.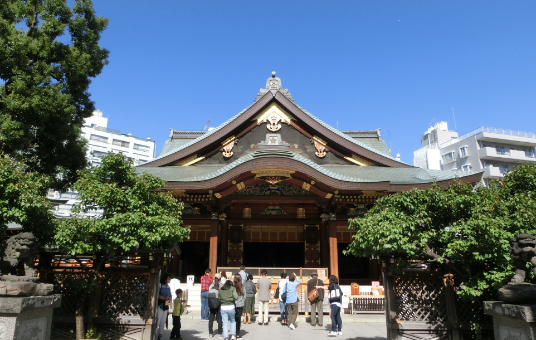 Yushima Tenmangu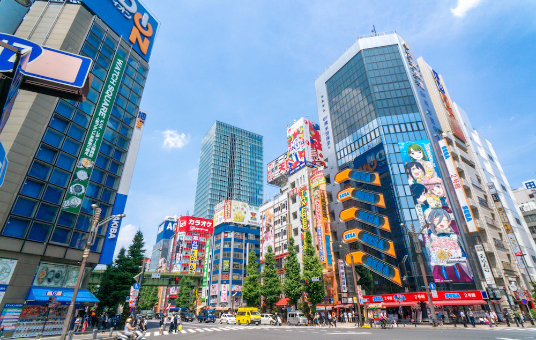 Akihabara
Hongo Campus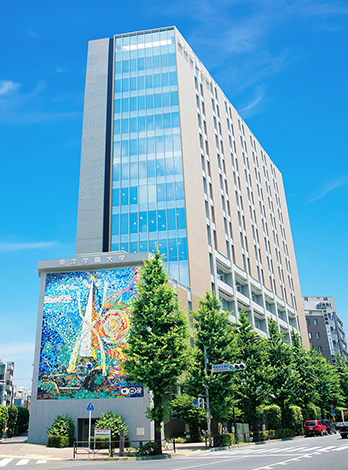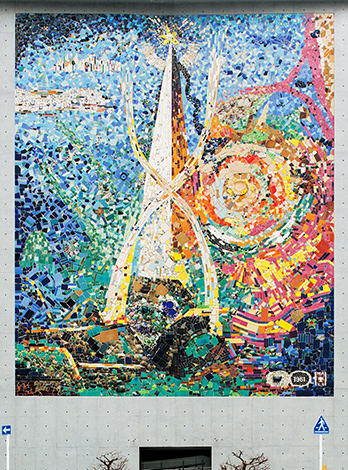 The Phoenix Mosaic Mural on the west wall of the main building at the Hongo Campus is the symbol of Toyo Gakuen University. Since the days of Toyo Women's College, the forerunner of Toyo Gakuen University, this mural has been a familiar landmark on Ikizaka Street in Hongo.

It was designed by and constructed in 1961 under the direction of the architect Kenji Imai, (1895-1987), member of the Art Academy of Japan. The mural is mostly made of tiles, but pieces of daily commodities cooperatively collected by the students and alumni of the Toyo Women's College were also used. Imai also created four other mosaic murals and called the the collection of these five murals the Phoenix Mosaic Murals, some of which are currently located in Nagasaki and at the Imperial Palace in Tokyo. He explained that the phoenix symbolizes the act of recovering worthless things into an eternal artistic work.
The mosaic mural located at our campus is named A Violet Hidden Among Rocks. The image compares a small women's college and its students, to a flower. Imai obtained the image from the verses of William Wordsworths's Lucy Poems, which read:
A violet by a mossy stone
Half hidden from the eye!
Fair as a star
When only one is shining in the sky
The sun depicted on the mural symbolically represents eternity, a secondary theme of the work.
The Phoenix Mosaic Mural was produced with deep affection by the college's students and alumni as a gift to their school. It symbolized the rebirth of the school from the ashes of World War II.