Welcome to the Faculty of Global Communications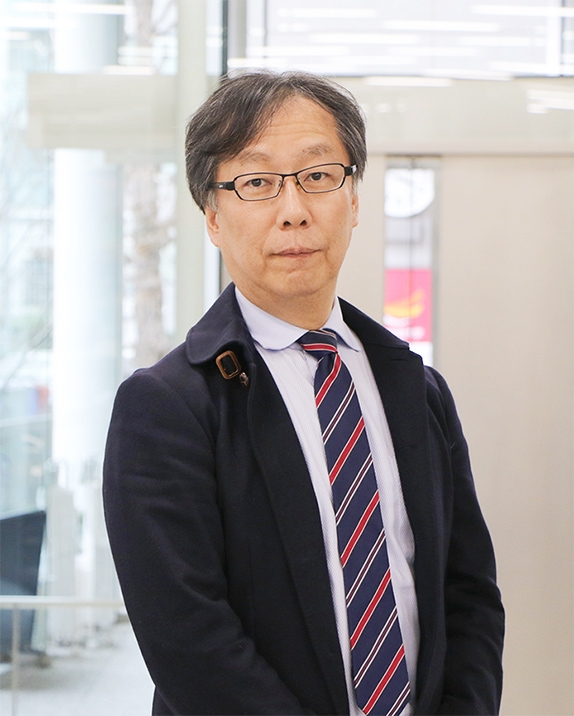 Takayuki Takao
Dean of Faculty of Global Communications
The Faculty of Global Communications aims to develop students' communication capability, which is essential for working in the globalized world that has been changing in an integrated manner beyond national boundaries. For developing this capability, we focus on languages, knowledge, and practice as the three key elements of learning.
Languages include English and other foreign languages, Japanese used for work, and basic computer skills. It is impossible to communicate with others for work purposes without acquiring languages sufficiently. However, you cannot truly communicate with others just by exchanging words. Such communications also require knowledge which is acquired by learning broadly about societies and cultures in the world. It is based on knowledge that you can use languages logically and make what you say meaningful. To acquire communication skills, you also need to accumulate the experience of communicating with others, which is enabled by practice. We provide students with various practical opportunities to develop communication skills that are needed for being globally competitive. They include fieldworks outside the classroom, which are conducted by taking advantage of the location of the campus in the center of Tokyo, intensive, experience-based classes and seminar class activities that are given and carried out away from Tokyo, and various international experience programs.
In the Department of Global Communications, students acquire foreign languages such as Chinese and Spanish, not to mention English. They also learn broadly about affairs and issues in the globalized world. This department places emphasis on the experience of checking their knowledge outside the classroom, with eyes and ears, and communicating actually with people they encounter. Students in the Department of English Communications learn the social and cultural aspects of English as the first global language. They also aim to acquire good working knowledge of English. In the second and third years, they take Progressive English, a compulsory subject of the department, in which they receive training for acquiring practical English skills two times a week.
While both departments have specific courses, students are not divided into courses until their third year. This means they have plenty of time to think which course to take. The departments also give seminar classes, in which each student is taught by the same faculty member in their third and fourth years consecutively. In these classes, students receive intellectual training repeatedly, in which they select specific topics, raise questions by themselves, and look for answers through discussions and presentations. The Department of Global Communications is recommended for students who desire to learn about cultures and societies in the world. The Department of English Communications is intended for those who desire to improve their English proficiency. Do you make patient efforts if you are given opportunities to do so? At the Faculty of Global Communications, we are willing and ready to find such opportunities for you.