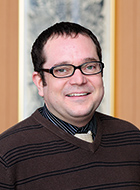 名前

アンドリュー ブーン 教授Andrew BOON

経歴

University of Sunderland
M.A. in TESOL, Aston University
Doctor of Philosophy (Applied Linguistics), Aston University

専門分野

Applied Linguistics, Education, Teaching English to Speakers of Other Languages (TESOL)

学位

M.A in TESOL
Doctor of Philosophy (Applied Linguistics)
近年の主な研究業績
| 区分 | 書名/論文名 | 単/共著 | 発行年月 | 発行所/発表誌等 |
| --- | --- | --- | --- | --- |
| 論文 | Developing Instant Messenger Cooperative Developmen | 単著 | 2011年3月 | 『東洋学園大学紀要』第19号 |
| | Setting up an Extensive Reading course:Tue Beginning,Tue Middle, And the end. | 単著 | 2009年3月 | 『東洋学園大学紀要』第17号 |
| | Building bridges-Instant Messenger Cooperative Development | 単著 | 2007年12月 | The Language Teacher31(12) |
| | Mission:possible-Goalsetting as a tool for increasing student motivation | 単著 | 2007年4月 | Modern English Teacher16(2) |
| | Incorporating the Internet into Business English Classes | 単著 | 2005年12月 | The Language Teacher |
| | Is There Anybody out There? | 単著 | 2005年 | Essential Teacher2(2) |
Comment
My interests are self-development of teachers and action research in the TESOL classroom. This involves teachers investigating aspects of their teaching, reflecting on and becoming aware of something in order to achieve a heightened state of awareness, discover something new about our individual pedagogic practice. We then put our plans and interventions into action. I am interested in this as it allows me to empower myself as a teacher and to continue exploring my teaching so that I can endeavor to provide the best classes.
Personal Data
【モットー】Enjoy and give and do your best everyday.
【性格】I hope as a teacher I am friendly, good-humoured, patient and understanding.
【趣味】My hobby is music. I love collecting CD's and I also play the guitar. Please come to the English Lounge(2305) to hear my play!
【学生時代の夢】The reason I went to university was to study to become a literature teacher. My dream was to get good grades, graduate and maybe live abroad in the future. I now live in Japan!